180BN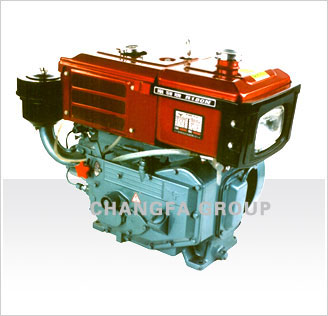 Single cylinder diesel engine
R180BN
Main Characteristics:
Light and handy in structure, convenient in moving, small in vibration, stable in operation, convenient in maintenance,fuel saving and convenient in starting.
Special instroduvtion:
It is a popular matched type at present. It is good in starting property low fuel consumption.
Main applications:
As a power device used for hand tractor, irrigation and generating sets, air compressor,inland ships, engineering machinery, transportation vehicle and processing machines for agricultural products and sideline products(e.g.Thresher, rice mill, flour-milling machine, fodder grinder).
Developed from original whirlpool type , the parts is popular, and start more easily.
Each CFZ185, CFZ190 and CFZ12 diesel engines used in a low inertia S-series (or SP) glib, economic utility, fuel consumption is lower.
CFZ195 diesel engine use advanced P-type fuel pump, emissions performance is better.
It is used of newωtype combustor, burning more fully, angle of fuel delivery is small it helps reduce noise, vibration and improve startup performance and exhaust performance.
It uses double roll bearings, in order that the operation has small resistance, and high mechanical efficiency.
Using 45# steel cam shaft, operation life is longer.
Introduced forcible lubrication and fundamentally eliminate the possibility of hold the bush.