05T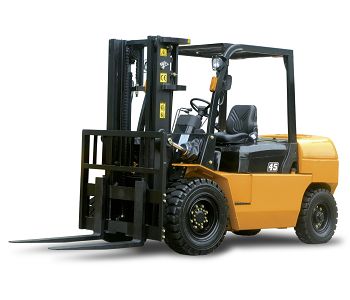 Product Specification
Model
Rated capacity (kg)
Engine
Model
Manufacture
Rated output (kw/rpm)
CPCD40N-RW5
4000
B3.3T
CUMMINS
60/2200
CPCD45N-RW5
4500
B3.3T
CUMMINS
60/2200
CPCD50N-RXW5
5000
B3.3T
CUMMINS
60/2200
CPCD40N-RW19
4000
TD42
NISSAN
62.5/2300
CPCD45N-RW19
4500
TD42
NISSAN
62.5/2300
CPCD50N-RXW19
5000
TD42
NISSAN
62.5/2300
CPCD40N-RG24
4000
4108
XINCHAI
57/2200
CPCD45N-RG24
4500
4108
XINCHAI
57/2200
CPCD50N-RXG24
5000
4108
XINCHAI
57/2200
| | | | |
| --- | --- | --- | --- |
| Power type: | Diesel | Load center: | 500mm |
| Lift height: | 3000mm | Transmission: | CHINA |
Mast Specification
Type
Model
Max. Fork Height
Overall Height
Free Lift
Tilt range
Lowered
Extended
Without Backrest
With Backrest
FWD
BWD
Without Backrest
With Backrest
4t
4.5t
5t
4t
4.5t
5t
4t
4.5t
5t
4t
4.5t
5t
4t
4.5t
5t
mm
mm
mm
mm
mm
mm
mm
mm
mm
mm
mm
Deg
Deg
Wide view duplex mast
R45/R50M250
2500
1995
1995
3330
3330
3670
3865
160
160
160
160
6
12
R45/R50M270
2700
2095
2095
3530
3530
3870
4065
160
160
160
160
6
12
R45/R50M300
3000
2245
2245
3830
3830
4170
4365
160
160
160
160
6
12
R45/R50M330
3300
2395
2395
4130
4130
4470
4665
160
160
160
160
6
12
R45/R50M350
3500
2495
2495
4330
4330
4670
4865
160
160
160
160
6
12
R45/R50M360
3600
2545
2545
4430
4430
4770
4965
160
160
160
160
6
12
R45/R50M400
4000
2795
2795
4830
4830
5170
5365
160
160
160
160
6
12
R45/R50M430
4300
2960
2960
5130
5130
5470
5665
160
160
160
160
6
6
R45/R50M450
4500
3070
3070
5330
5330
5670
5865
160
160
160
160
6
6
R45/R50M480
4800
3235
3235
5630
5630
5970
6165
160
160
160
160
6
6
R45/R50M500
5000
3345
3345
5830
5830
6170
6365
160
160
160
160
6
6
Wide View full free duplex mast
R45/R50U250
2500
1976
1986
3365
3365
3670
3865
1114
1114
809
610
6
12
R45/R50U275
2750
2100
2100
3615
3615
3920
4115
1238
1238
933
735
6
12
R45/R50U300
3000
2226
2226
3865
3865
4170
4365
1364
1364
1055
860
6
12
R45/R50U330
3300
2376
2376
4165
4165
4470
4665
1514
1514
1205
1010
6
12
R45/R50U360
3600
2526
2526
4465
4465
4770
4965
1664
1664
1359
1160
6
12
Wide View triplex mast
R45/R50N400
4000
2080
2080
4850
4860
5170
5365
1229
1222
912
715
6
12
R45/R50N430
4300
2205
2205
5155
5160
5470
5665
1329
1322
1012
815
6
12
R45/R50N450
4500
2270
2270
5365
5370
5685
5880
1395
1390
1080
883
6
6
R45/R50N480
4800
2365
2365
5650
5660
5970
6170
1489
1482
1172
975
6
6
R45/R50N500
5000
2435
2435
5855
5860
6170
6370
1559
1552
1242
1045
6
6
R45/R50N550
5500
2600
2600
6355
6360
6670
6870
1724
1718
1408
1210
3
6
R45/R50N600
6000
2815
2815
6865
6870
7180
7380
1939
1932
1622
1425
3
6
The Standard mast of forklift is 2-stasge 3000mm, different mast specifications are provided above.
Product Advantages
Appearance
The latest appearance design method was used to create the R series fluent and aesthetic outline, which matches the latest appearance trend.
Efficiency
Thanks to the long wheelbase design, the longitudinal stability of whole truck is much better, the hoisting capacity at same lift height are enhanced by an average of 100KG compared with former truck. At the same time, it prolongs work time of rear wheel as the reduced rear axle's load.
The travel speed of truck has been raised, for example, the 2-2.5T type comes to 20km/h.
Turning radius and width of right angle stacking aisle are decreased through reducing the dimensions of whole truck, that raise the efficiency of storehouse.
Service
Dual air spring supporting hood and one-touch removal of the floorboard get you right to service operations, and reduces down-time.
The reasonable arrangement of fuse and installation of instrument, enable the replacing for fuse and maintenance for instrument easier.
Clean
The environment friendly engines all meet EU stage-2 emission control regulation. The noise emission also comes to EU standard. The metal hood and molding sound insulation matches environmental protection demands.
Safe
A throttling device is set in pipe system,the mast won't result in failing control of mast even some pipes broke. By using a built-in hood lock device, the safe level of the truck has been raised.